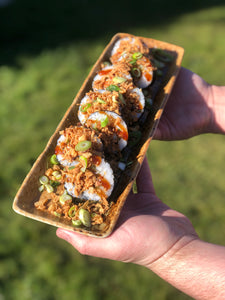 Chicken Teriyaki Futomaki, topped with teriyaki sauce, lots of fried onion and spring onion. If you prefer a vegan version just leave us a note!
The profit from every sale will be donated to Andys Man Club.
Andy's Man Club started off as a small group of men meeting to talk in Halifax, in the North of the UK. It's since grown to be a countrywide network of 28 men's groups. On average one man every 2 hours takes his life in the UK. It's often said a factor is that men don't talk. Thats why Andys Man Club was born to break down these stigmas. At Andys Man Club you don't have to be suicidal or have a mental health problem, they just want to get men talking.
Allergen advice: due to the way our food is prepared it is not possible to guarantee the absence of allergens in our products.